11 Reasons Why You Should Pay Early For Tonydoo Visuals Photography Training and Avoid Last Minute Rush
First, we will like to commend those who have made payments already towards this class and benefited from the 15% discount we gave earlier on. If you are yet to get your receipts, kindly send a mail to info@tonydoovisuals.com so it can be sent to you within the next 3 hours.
If you are still thinking of whether this Photography Training is for you, continue reading the most important 11 Reasons Why You Should Book Your Seat Now.
1. Number of registrations we get daily keeps increasing.
The number of registrations that we get on a weekly basis are so many. As at last week alone, we got over 30 people indicating interest in our Photography Trainings. I honestly think it is because our school is the best school of Photography you can find out there. Besides the fact that it is the best in terms of the quality of our teachings, it is also affordable, compared to what other schools in Lagos ask students to pay.
The fact that you registered by filling the form before many others does not mean you have been admitted into the class. If you also indicated interest early but have not made payment, this does not mean you will be given special preference. Only payment secures your seat. Please don't get caught up in the late registration drama. Avoid last minute rush!
2. Maximum number of students per class is 20. Only a few slots left.
This means you are in competition with 19 others for a chance to be part of this current session. What am I saying? It is not even up to 19 anymore, some have made payments already, which means you are probably competing with 9 or 11 others for a spot in class. Remember, there are over 50 registrations already. That means you are competing with about 50 people for 9 to 11 spots in class. If you do not join this session/class now, you may have to pay a higher fee the next time. Like I said in one of my mails, the last class was 70,000 but this current one is 90,000. This means the next Photography Training might be increased to 120,000. So the best help you can render to yourself is to register and pay today!
If you need help on how to convince your parent/someone to pay for this Training, send me a mail at hello@tonydoovisuals.com so I can send you a sample mail/text you can use.
Click HERE to Pay Now Via Our Online Payment Platform.
3. Through the search engine and referrals from our past students, we are still the No 1. School of Photography in Nigeria.
Our commitment to improve our standards and methods over the years has made us second to none in Photography Training in Nigeria. You probably found us while searching on Google. This means that we technically the best Photography School in Lagos, Nigeria and we are deeply interested in your growth.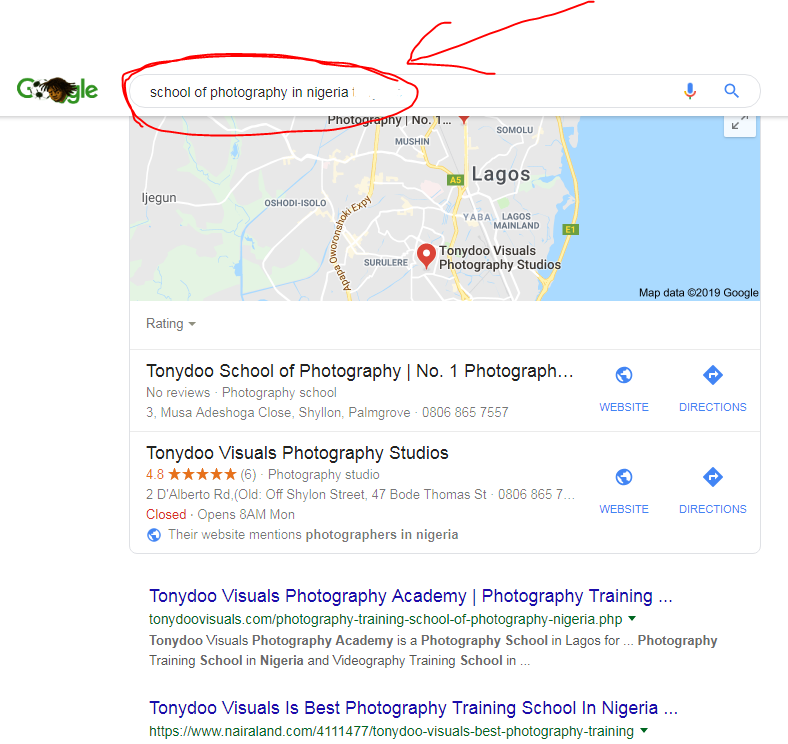 4. Cameras will be provided for you at the school, so you do not have a thing to worry about.
We have been able to build strategic partnerships with photography companies and e commerce companies dealing in Photography equipments so you can buy them at a heavily discounted rates. You will always get the best deal from them when you are buying through Tonydoo Visuals.
5. You'll get help and support for 1 year. We will suport you every step of the way for 1 Whole Year!
Our classes have been structured in such a way that, even after the duration of the training, you will get One Year Support from the Faculty. This means you can always call us, email us, come to the studio, visit us, ask questions, ask for help, ask for advice for a whole 1 year! You won't get this anywhere!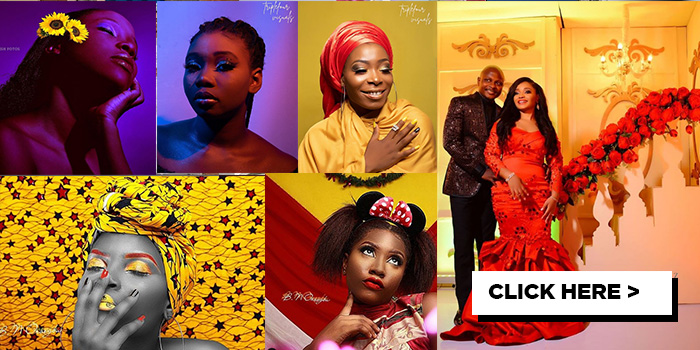 6. Our Classes are Flexible. Weekday and Weekend Classes Available
Remember our classes are flexible, so you can make payment for either the weekday classes or the weekend classes depending on which fits your schedule. Both Weekend and Weekday Classes at the moment go for the same fee so you might want to hasten things up.
7. You don't need any prior skills, knowledge or experience to make it in Photography or to make it work.
You will be learning how to build a photography brand, how to get your first set of clients, how to win photography contracts and a lot more. All you require is PASSION to learn! Cameras will be provided for you at the school, so you do not have a thing to worry about.
During the course of our previous classes, we have had young school leaving students attend and they still grasp a large chunk of the concepts being taught in our classes. This reminds me of a particular man in his fifties, that came to class, telling us of how serious he was about learning Photography, expressing how frustrating it was out there to get a job to feed his family. We initially thought he would not do well in class, but to everyone's surprise, he came out as one of the best students in class at that particular time. Today, he is reaping the benefits of the never-say-die attitude he had instilled in him back then and his decision to join our classes.
Watch this Video Testimonial by Adewale Akomolafe and Olaitan to see what we are talking about.
8. Our Photography Course Curriculum is the best in the Country. Our Training Fee is the most affordable.
Apart from the fact that our fees are the lowest you can ever see on the web, the carefully prepared course outlines and course materials are the best. You will never get this list of courses and topics for this price elsewhere.
See course outline below.
Introduction to Digital Photography
Studio Photography
Advanced Lighting/Studio Lighting
Fashion Photography
Documentary and Street Photography
Portraits Photography
Wedding Photography
Editing and Retouching in Adobe Photoshop
Editing in Photoshop
Business of Photography
Art of Photography
If you want week-by-week course outline, click Detailed Tonydoo Visuals School of Photography Course Curriculum
9. We have created a "total step-by-step" system that ensures you won't get lost or stuck
Our lectures are very easy to understand because our Lead Lecturer is a Masters Degree holder in Information Technology and so, understands how best to pass on information to students like you. He studied Computer Engineering in his undergraduate days and that alone goes a long way to let you know that he is well-read and well-versed when it comes to knowledge transfer.
10. We run the Best Photography Training in Lagos Nigeria Without Any Doubts.
We also have a reputation to protect as the No 1 Photography School in Nigeria, handled by Google's No 1 Wedding Photographer in Nigeria. You can also google it. Search for "best wedding photographer in Nigeria" from your devices and let us know if you truly find Tonydoo Visuals up there.
11. Opportunity to Network and Increase Your Networth/Network of Friends Esp. Photography Greats in Nigeria
You will get a very rare opportunity to network with people of like creative minds who also want to improve themselves asides from the fact that they have successful businesses and careers on the side. Over the last couple of Photography Training Classes we had, we have had people who schooled in London, people who are into Interior Decoration, Music Industry, Programmers, Software Developers, Cinematographers just to mention a few.
After those 4 students in the previous video, there are still more Testimonials. See what Babarinde Alade has to say about our Photography Training.
How to Pay
Pay the training fee (N80,000) if you pay between now and tomorrow. N10,000 discount applies.
Account details are below. When done, send proof of payment to this number 08068657557.
GTBank
Account Name: Olanrewaju Anthony Aderinwale
Account Number: 0037492921
First Bank
Account Name: Olanrewaju Anthony Aderinwale
Account Number: 3046372230
You will be learning a whole lot beyond Photography. Graphics Designing and Video Editing will come in at a point.
The convener of this class is a Multi Talented Creative Photographer who not only knows Photography, but also knows Digital Marketing, Graphics Design, Web Design, Branding, Advertising, Video Editing and so much more. This ultimately means that you will be tapping from a great fountain of knowledge when you attend our classes.
In our last class, there was a point when we digressed in to Graphics Design. It would interest you to know that a lot of the class students found it really interesting while some of them can now do Graphics Design esp to promote their businesses and help other businesses too.
You will ultimately get more than you budgeted for. Our Commitment to Your Growth is 100%.
You will be able to Collaborate with students and past graduates of the class on Photography Projects and future works.
OTHERS
What you will learn will make you more money than the amount of time and money you will invest in this course.
You will gain practical knowledge that will yield a return on your investment in your business or career.
Time is running out – Make payment now before it is too late and Get Exclusive Premium Bonuses Worth over hundred of thousands of Naira.
Above all, you will be having a great time!
If you check our Photography Course Curriculum here: Tonydoo School of Photography Course Curriculum you will notice that we have strategically included Field Trips, Tours and several Outdoor practicals for you. This shows our level of experience and our willingness to make sure Photography works for you. Check our our last Field Trip tagged "The Unseen Lagos" here.
Got Questions?
Call  0806 865 7557, 0802 663 9718