Become a Professional Photographer in Nigeria. Registrations NOW OPEN!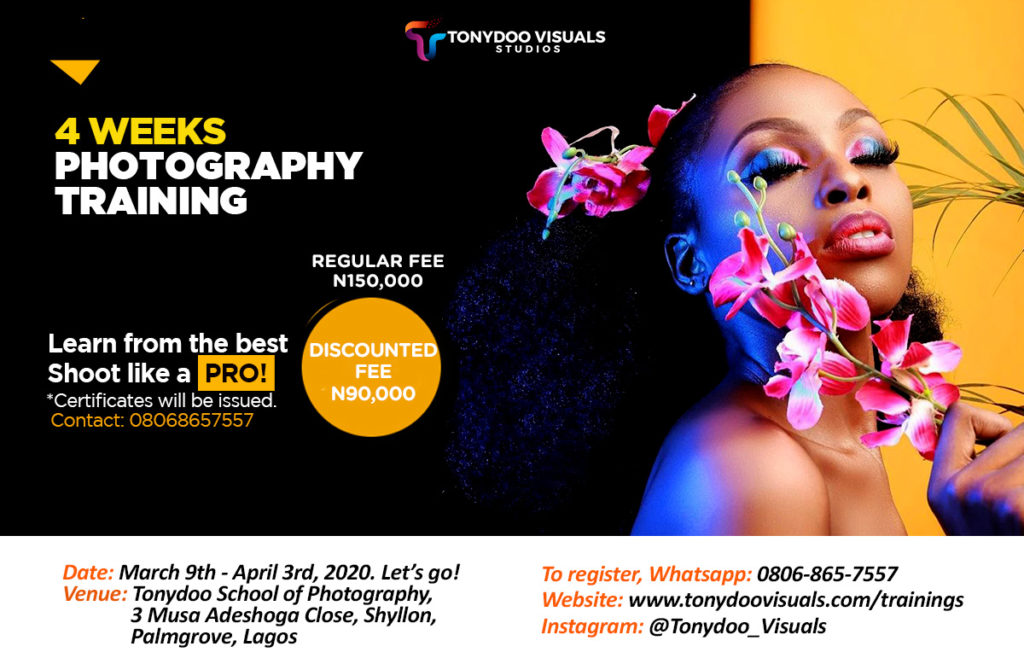 Are you having thoughts of becoming a Professional Photographer?
.
No need to worry!!! Tonydoo Visuals School of Photography is the right place for you.
.
Enroll to become a Professional Photographer
.
Position yourself as a job-ready Photography with this intensive program.
.
Get ahead of your colleagues with today's essential skills and evolve in this image-driven economy.
.
Companies pay Photographers between N120,000 to N150,000 with some earning far depending on their skillset.
You will learn from Industry experts and Google's No. 1 Wedding Photographer in Nigeria.
PROGRAM DETAILS (What you'll learn)
->Developing your creative intent
->Advanced Lighting on subjects
->ISO/Shutterspeed/Aprture – The Exposure Triangle
->Photo Editing: Using Adobe Photoshop/Photo Manipulation/Adobe Lightroom
->
Program starts:
->March 9th, 2019
Weekend
->March 7th, 2019
.
Duration: 4 Weeks
.
Certificate will be issued at the end of the program
Best students will win core Photography Backdrops, Lights, Reflectors and Speedlites
.
.
For further enquiries, you can contact us:
Call/Whatsapp: 08068657557
Email: info@tonydoovisuals.com
Powered by: Tonydoo Visuals School of Photography & Antonio Forbes Int'l Company