23 Things You Will Learn & Get At The Lagos Photography Bootcamp starting on Monday.
Frequently Asked Questions About Our School of Photography in Lagos, Nigeria
Got a question?
Read our frequently asked questions to find out more about us and your time at Tonydoo School of Photography 4 Weeks Bootcamp.
Are you passionate about Photography and wish to join this class but you have challenges with the tuition fee? Chat us on WhatsApp to get a good deal NOW. Click here >> http://wa.me/2348068657557
Frequently Asked Questions
We Have Answered Commonly Asked Questions About Our Highly Demanded Photography Course
What will I be learning?
The full course outline:
How to build a profitable photography brand and business
How to fix your editing problems, photoshop installation, lightroom configuration
start or scale up your photography business, make more money
BONUS CLASS + FREE REPLAY: HOW TO GET PHOTOGRAPHY CUSTOMERS ON GOOGLE WITHOUT ANY ADS PLUS YOU'LL GET A FREE WEBSITE THAT CAN BE SEEN IN GOOGLE FOR FREE
HOW TO CREATE DEPTH OF FIELD (BLURRED BACKGROUND) IN YOUR IMAGES WITH ANY LENS
HOW TO PERFORM COLOR GRADING IN YOUR IMAGES WITH LIGHTROOM AND PHOTOSHOP
BONUS CLASS+ FREE GIFT: YOU WILL GET OVER 500 PLUS COLOR GRADING LUTS AND ACTIONS FOR LIGHTROOM AND PHOTOSHOP to improve your editing greatly.
BONUS CLASS + FREE REPLAY: HOW TO PERFORM FREQUENCY SEPARATION TECHNIQUE ON YOUR IMAGES WITHOUT LOOKING LIKE PLASTIC
BONUS EBOOK: THE ULTIMATE PHOTOGRAPHY POSING GUIDE THAT OTHER PHOTOGRAPHERS DO NOT WANT YOU TO SEE/HAVE ACCESS TO
How to build your brand on Instagram and get visibility for your brand outside Instagram for FREE.
How to create photography content on your phone, even when you don't know what to write, say or post on your page.
How to use your bio & link for SALES
THE 7 REASONS WHY YOUR PHOTOS SUCK AND ARE NOT CREATIVE (PLUS HOW TO FIX THEM)
HOW TO TAKE CREATIVE IMAGES OUTDOOR (OUTDOOR PHOTOGRAPHY) even with the sun.
THE SECRETS TO LIGHTING IN STUDIO PHOTOGRAPHY (STUDIO PHOTOGRAPHY)
BONUS – TICKETS TO LAGOS MOST ANTICIPATED DOCUMENTARY PHOTOGRAPHY PROJECT – THE UNSEEN LAGOS www.theunseenlagos.com.ng
How to use lightroom to transform bad photos to great images with a single click!
Bonus: over 15 inspirational books on studio photography, editing, outdoor photography, posing, lighting, wedding photography and more…
One on one access to Mr. Tonydoo after your classes for mentorship and support for up to 1 year
[plus] WHICH CAMERA AMONG SONY, CANON AND NIKON IS BEST FOR A BEGINNER PHOTOGRAPHER
SIX TRAPS YOU MUST AVOID FALLING INTO WHEN STARTING OUT AS A PHOTOGRAPHER IN NIGERIA
PERSONAL PHOTOSHOOT / PERSONAL PROJECT FOR EACH STUDENT TO HELP YOU HAVE A PORTFOLIO
HOW TO USE THE BUTTERFLY, REMBRANDT LIGHTING, SPLIT LIGHTING TECHNIQUES IN YOUR SHOOT SETUPS ON SUBJECTS
[Another plus] Have access to me(@tonydooschoolofphotography) and other experts in the group to ANSWER ALL YOUR QUESTIONS & GUIDE YOU ALL THE WAY
22. Submit weekly assignments to help you implement and get results
23. Experience weekly HOT SEATS where I & other veterans will criticize randomly selected submitted assignments. THIS WILL HELP YOU IMPROVE GREATLY.
24. ONE YEAR ACCESS to all the lectures, so you can also learn at your pace. Timing is not an issue.
I don't have any prior experience in photography, can I also join?
Yes, our classes are broken down to the simplest concepts and our style of teaching and practicals will make you have the best time of your life! All that is required of you is the passion for creativity and determination to succeed. Everything is possible to him who believes.
What if I don't have a camera?
Not to worry, we have cameras that we use in Training students. If you are planning to buy, call 08068657557 to get guides on the best type of cameras to buy as a beginner. I have also written an article or blog post that talks in-depth about the cameras to buy, so you don't end up buying what is bad for you and may not really do the work you want to do. We even help you get great discounts when buying cameras, lights, backdrops, memory cards, flash, from our authorised partners and vendors
How many times a week is the training?
The Training runs for 3 times in a week – Mondays, Wednesdays and Thursdays from 11am to 3pm. We will give you assignments to enable you better understand what you have learnt in class.
How long is the training?
The training lasts for One Month = 4 Weeks of Intensive Professional Photography Classes, with lifetime mentorship, support and guides from the Academy
How can I register and join?
Pay the sum of N5,000 for your form to our account, get your passport ready and visit us at the studio.
Where are you located?
Currently located on at Lekki Phase 1, Lagos. Our address is 1B, Alh Hussein Sunmonu Str, Lekki Phase 1, Lekki, Lagos
I stay far, is there accommodation?
Yes,, there is. People come as far as Enugu, Abia, Port Harcourt, Ajah, VGC, Ikoyi, Ikeja to attend our Trainings. We provide accommodation for you throughout the duration of your training. Call our Course Manager on 08068657557 to discuss your accommodation.
Will I be getting jobs after the training?
As a matter of fact, after teaching you The Business of Photography – which deals with how to get paid as a Photographer, land gigs, get bookings, we also refer you for jobs, you will also follow us on events, weddings and shoots.
How about how to get clients? How will i get clients?
With our strategies, techniques and professional experience, you are guaranteed to succeed in your newly chosen field.
Can I always come to the studio?
Yes, our studio doors are always open. Even during and after your trainings, you can use our studio for your personal shoots with collecting a dime from you.
Can I negotiate the prices?
The prices are not negotiable, as this is the best price for value that you will find on the internet in Lagos Nigeria. The values and bonuses you will get alone is massive compared to the price you will be paying for our trainings. Fear God oh!
Can I pay in instalments?
Yes, you can pay twice. First deposit before classes commence. Then the balance on or before the 3rd week of Training.
Will I also learn editing? Also will I learn Photoshop, Lightroom?
Yes! have you seen my image with Michelle Obama , the one with Rihanna and the one with Bill Gates during Dangote's Daughter's Wedding in Lagos recently? Our editing classes are always projected on a large screen with Laptops and editing tablets connected. The state of the art editing methods.
Want to join but have challenges with the Tuition Fee? Chat us on Whatsapp to get a good deal NOW.
Click >> wa.me/2348068657557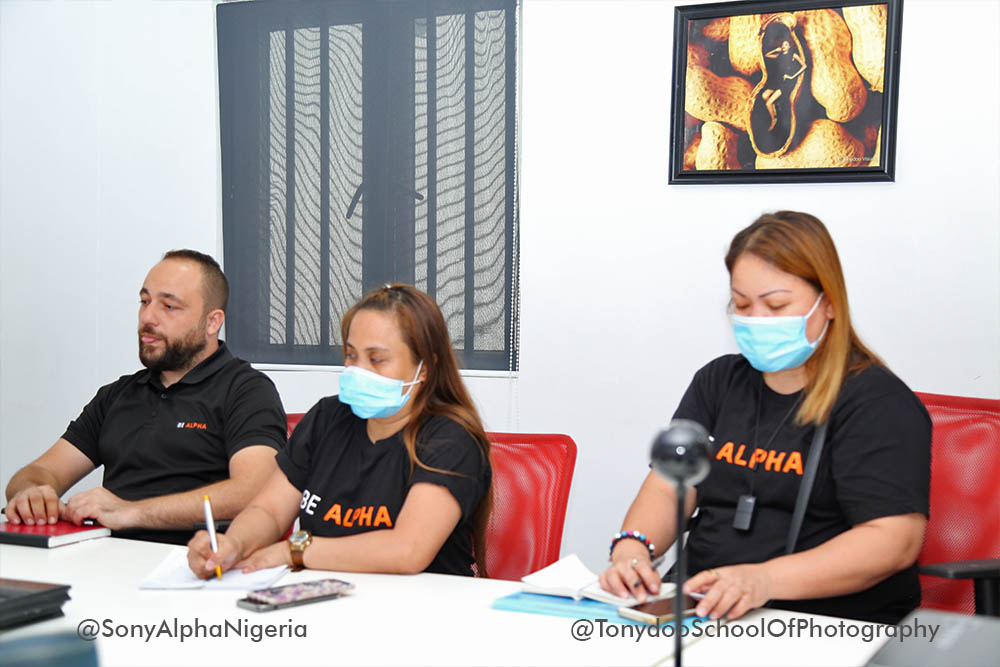 Read more testimonials.