How to Make Money as a Photographer: 10 Great Ways to Make Money From Photography in Nigeria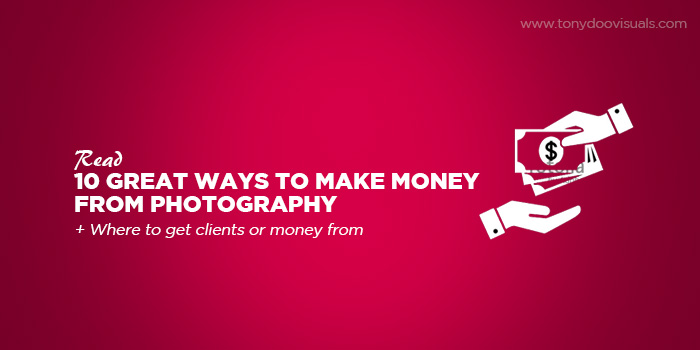 If you need help on how to convince your parent/someone to pay for this Training, send me a mail at hello@tonydoovisuals.com so I can send you a sample mail/text you can use.
Over the years, I have listened to students who come to our Photography institute say the main reason why they are getting into Photography or why they want to learn Professional Photography is to make money. I often tell them, though money is important, they should rather go into it because of the passion they have for Photography. Photography is more of an artistic pursuit and what makes it worthwhile and interesting is your desire to create something fun, creative and awesome.
The truth has to be said however, that in as much as Phoography is an artistic discipline, it is a very lucrative profession or career choice in Nigeria and in other parts of the world in general. Photography has a lot of money involved and the beauty of this is that you too can make this money.
Are you ready to transform your passion into a paying profession, business or career? Read on to learn how to do that.
1.. Do photo shoots for clients, family and friends.
Usually, you should have your own studio where you can take professional images of your clients. But that is in the ideal sense of it. How about if you do not have a studio? The truth is you do not need to have a studio before you shoot friends, family and clients. I remember when I started out photograph, I didn't have a studio of my own, but I did several shoots of people and clients by taking them to outdoor locations, renting a professional studio and shooting in their houses or ofices. The truth is there are so many opportunities out there for you. All you just require is the passion to learn and the determination to succeed. Owning a studio doesn't define your photography journey.
To start out, all that is required of you is to have a strong portfolio of works, have your social media handle updated with your best works, then tell your friends and family. Do what ever you need to do to get your work out there in front of people who you know will require your services at a point in time or the other. Target people like Church, Mosque, Family, Groups, Associations, etc.
I will list out the specializations of Photography that you can decide to focus on.
Newborn Photography/Newborn Photoshoots
Family Portraits
Birthday Shoots
Maternity shoots/Pregnancy photo shoots
Pre wedding photoshoot
Real estate photoshoot
How much do I charge for my photo shoots or photo sessions?
I often get asked this question a lot in class, and I have created step-by-step process on how to weigh and guage how much you should charge for each of the different types of Photoshoots that you do for clients, family or friends.
Watch this Video Testimonial by Adewale Akomolafe and Olaitan regarding our Photography School
Our Photography Course Curriculum is the best in the Country. Our Training Fee is the most affordable.
Apart from the fact that our fees are the lowest you can ever see on the web, the carefully prepared course outlines and course materials are the best. You will never get this list of courses and topics for this price elsewhere.
See course outline below.
Introduction to Digital Photography
Studio Photography
Advanced Lighting/Studio Lighting
Fashion Photography
Documentary and Street Photography
Portraits Photography
Wedding Photography
Editing and Retouching in Adobe Photoshop
Editing in Photoshop
Business of Photography
Art of Photography
If you want week-by-week course outline, click Detailed Tonydoo Visuals School of Photography Course Curriculum
2. Put up your Photos for Sale on Stock Photography Websites
Have you been shooting for a long time? If your photos are so many, and are of high quality, you can submit them to stock photography sites which is always a guaranteed way to earn some bucks of money. Websites that you can always submit these photos to are listed below.
iStock
Shutterstock
Flickr
Big stock
Freepik
Getty Images is always a good way or site to license these images when you have put them up.
Tips on How to sell your stock photos:
Sign up as a contributor. When asked to provide your information, fill them up carefully and supply documents as required.
Ensure you read and get used to the guidelines provided on their sites regarding your submissions.
Next step is for you to upload your photos. Remember to add Metadata, Alt tags, Photo descriptions and relevant keywords.
Then submit. They will usually take some time to review your profile and your images.
3. Search for Photo contests and Photography competitions to join on Google.
Don't believe that your skills are good enough to win a photography contest? Think again! It's not just the experts who join these contests, after all. The contestants you'll be competing with will usually be an eclectic mix of photographers with different levels of experience and expertise, so don't be afraid to venture out and try your luck. What do you have to lose? Even if you don't win any of the cash prizes, photo contests can help boost your confidence and gain you some exposure
4. Start a photography blog or YouTube channel.
The most common way by which Bloggers make money is through ads and sponsored content. Bloggers usually will make video tutorials where they share tips and tricks. Some others also delve into writing reviews for Photography equipments, gears, software and cameras.
These day, everybody watches videos. One other guaranteed way of making money in photography is by creating a Youtube channel. The blog topics uploaded in the earlier paragraph can be converted into video forms. Note that for you to make a lot of money from Youtube videos, you need to have a lot of followers.
5. Sell your printed Photos.
Have you heard of a particular painting sold for a million dollars? People love art. Just like a painting is a work of art, so also is a printed photograph. The money realized from selling printed photos can be so much. I can give you a couple of tips and methods to go about this.
Sell your photos on your own website or upload them to sites such as ImageKind
Frame your photos and take them along with you when going for art fairs or photography fairs and exhibitions.
Print your images and display them at coffee shops, restaurants, and other outlets.
Offer some of the printed copies to your clients for sale.
Sell your images or printed photos to an art gallery within your geo location.
It is however important to note that, before you start selling your prints, make sure you have done a good printing of the works. No one will buy a beautiful photograph that doesn't have good finishing.
One more thing for you to note is that whatever you are framing, make sure it doesn't have people in it. People generally will not buy prints of people in them. This is often because they are going to hang them in their offices or homes.
6. Do freelance photography work for magazines or newspapers.
Identify the magazines or newspapers in your area or city and do freelance photography work for them.
When you do a search or check for local magazines in your area, you will discover that they are actually in need of people to do freelance photography for them. This is because media houses, magazines etc rely heavily on content. As a matter of fact, the media houses cannot function without content. Your photos either good or average are good content for them. Yes! Excellent content for them! You also need to have a good rapport with the media/publication outfits so they can keep giving you steady jobs from events or coverages.
Your portfolio must be very strong. They need to have something to look at.
7. Become a paparazzi
Paparazzi are people who usually take photos of celebrities, music artistes etc at events or at gatherings. If you are familiar with Victoria Island, Lekki, Ikoyi, you would discover that all these celebrities we see on TVs everyday are actually free humans that walk and do the normal everyday things you and I do. Just the other day while at a meeting in Dolphin Estate in Ikoyi, at about 5.30pm, I saw the famous ever blazing RMD! Yes! Richard Mofe Damijo, was having an evening walk round the estate. Baba was so approachable and always as happy as ever with that his Golden white hair and shiny beards.
Paparazzi Photographers are usually highly paid, but then the competition might be high and the task might be demanding. You as a photographer only needs to know where they hang out, visit, club, or recreate so as to get to meet them and take beautiful pictures of them.
How to become a professional paparazzi:
Save up enough money and buy the right camera gears.
Invest in the right equipment—you'll need a high-quality DSLR camera, a telephoto lens, and even a compact camera to allow for taking photos on the sly.
Obtain press credentials and other credentials you may need.
Decide if you want to become a freelancer or join an agency.
Familiarize yourself with celebrities from all fields: TV, movies, sports, and even politics.
Familiarize yourself with prime locations for celebrity sightings.
Develop your communication and people skills (you'll need to interact with celebrities and other paparazzi, so knowing how to establish good relationships is key).
8. Get gigs as an assistant photographer.
Most photographers often need a second shooter (like at weddings and events) or an assistant during photo shoots. If you aren't too confident about going out there on your own and taking on clients by yourself, working as an assistant or a second shooter is a great way to get your feet wet, gain more experience, and earn some extra cash—because you'll be compensated for your time!
Just contact any local photographers near you and ask if they need an assistant or a second shooter. Or, if you don't feel like calling up a photographer you've never met and asking for a job, you can try meeting people (and making friends!) in the local photography community by joining some groups or clubs. Networking is an important part of any photographer's career, so start building your network now.
9. Offer wedding photography services.
You don't necessarily have to start a wedding photography business to make money from shooting weddings. You can start by contacting clients or offering your services to friends and relatives. Wedding photography is particularly profitable, so it's always a good option if you're looking to make money.
Now, whether you decide to do wedding photography full-time or not, it's important to have the best photography equipments at your disposal if you want to make your clients happy and ensure that they recommend you to all their friends.
10. Start your own niche photography business.
Finally, we get to the last and most obvious way to make money as a photographer—starting your own niche photography business.
Putting up a website that offers a broad range of photography services is a good way to make money, but if you want to really get serious about your career and earn even more money, you need to find your niche. If you enjoy photographing animals, start a pet photography business. Love traveling? Then get into travel photography. Just make sure to keep it focused on one or several related niches, as doing so helps you increase your credibility and build your reputation for being an expert in that particular niche.
Why? Think of it this way: if a client wants to hire a photographer for his wedding, will he hire the photographer who does real estate photography, headshots, and the occasional weddings here and there? Or will he hire the photographer who exclusively specializes in weddings? Probably the latter, right?
After those 4 students in the previous video, there are still more Testimonials. See what Babarinde Alade has to say about our Photography Training.
How to Pay
Pay the training fee (N200,000) if you pay between now and tomorrow.
Account details are below. When done, send proof of payment to this number 08068657557.
GTBank
Account Name: Antonio Forbes Intl Company
Account Number: 0496276414
If you check our Photography Course Curriculum here: Tonydoo School of Photography Course Curriculum you will notice that we have strategically included Field Trips, Tours and several Outdoor practicals for you. This shows our level of experience and our willingness to make sure Photography works for you. Check our our last Field Trip tagged "The Unseen Lagos" here.
Got Questions?
Call 0806 865 7557, 0802 663 9718