No need to explain, here are two awesome Testimonials – Best Lagos School of Photography
See what our students and graduates of our Photography School are saying about us
One of our student's dad had this to say about our Photography Trainings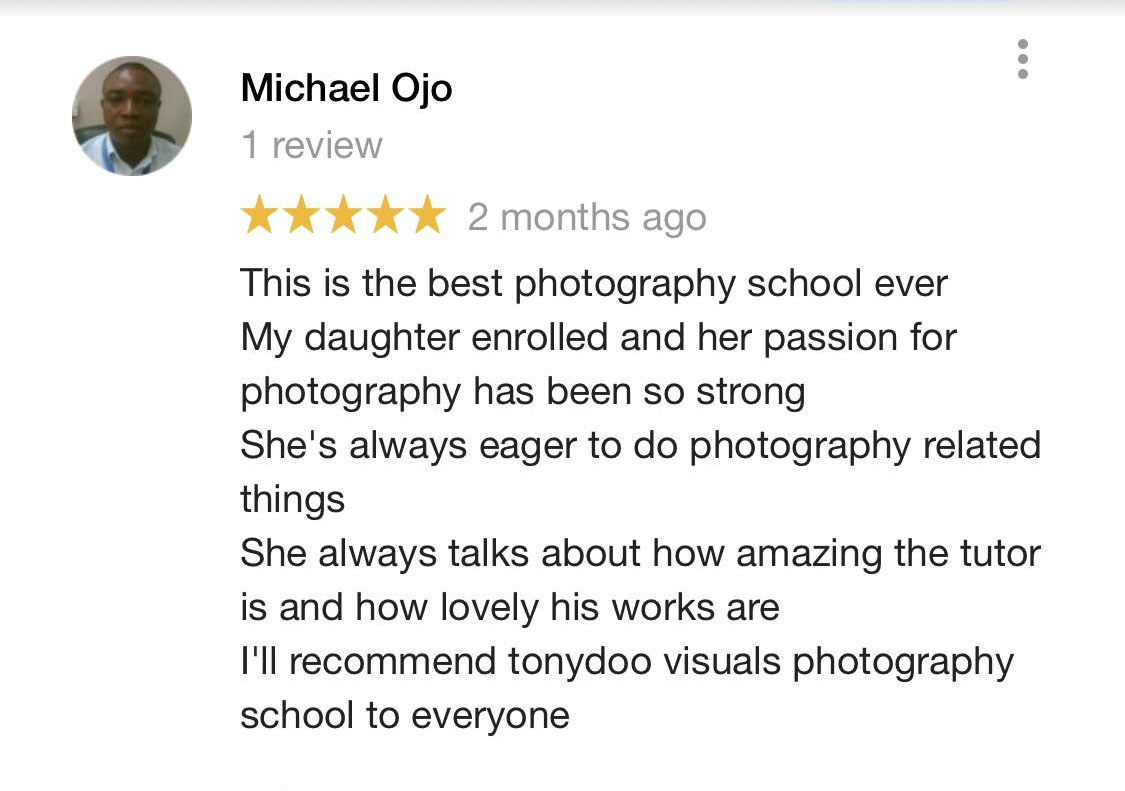 Another Student who happens to be a Civil Engineer/Project Manager gave us this wonderful review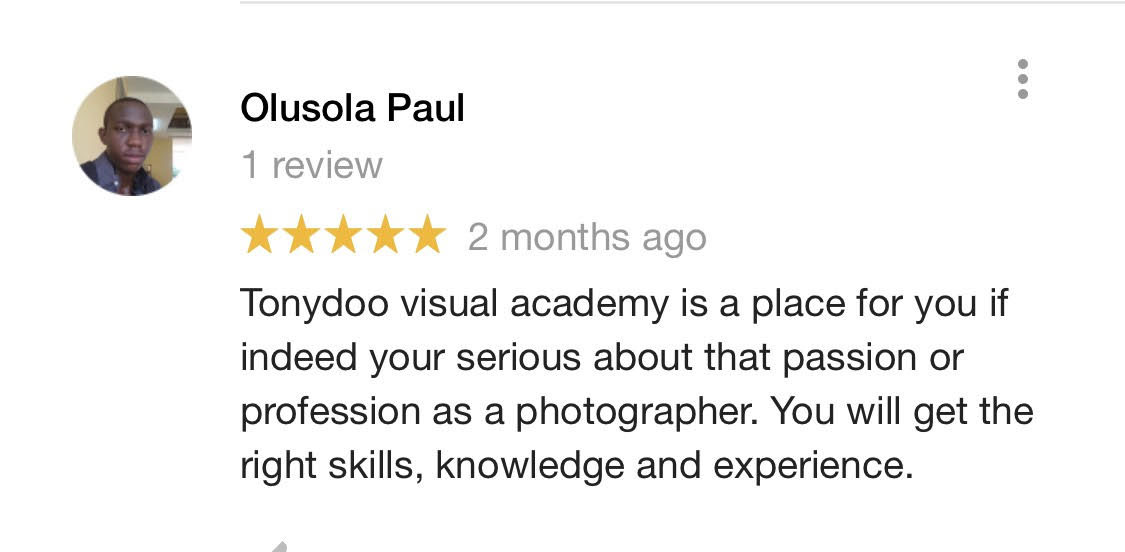 Ukecha Emmanuel, a student who schools in Edo State, UNIBEN had this to say after attending our One Month Training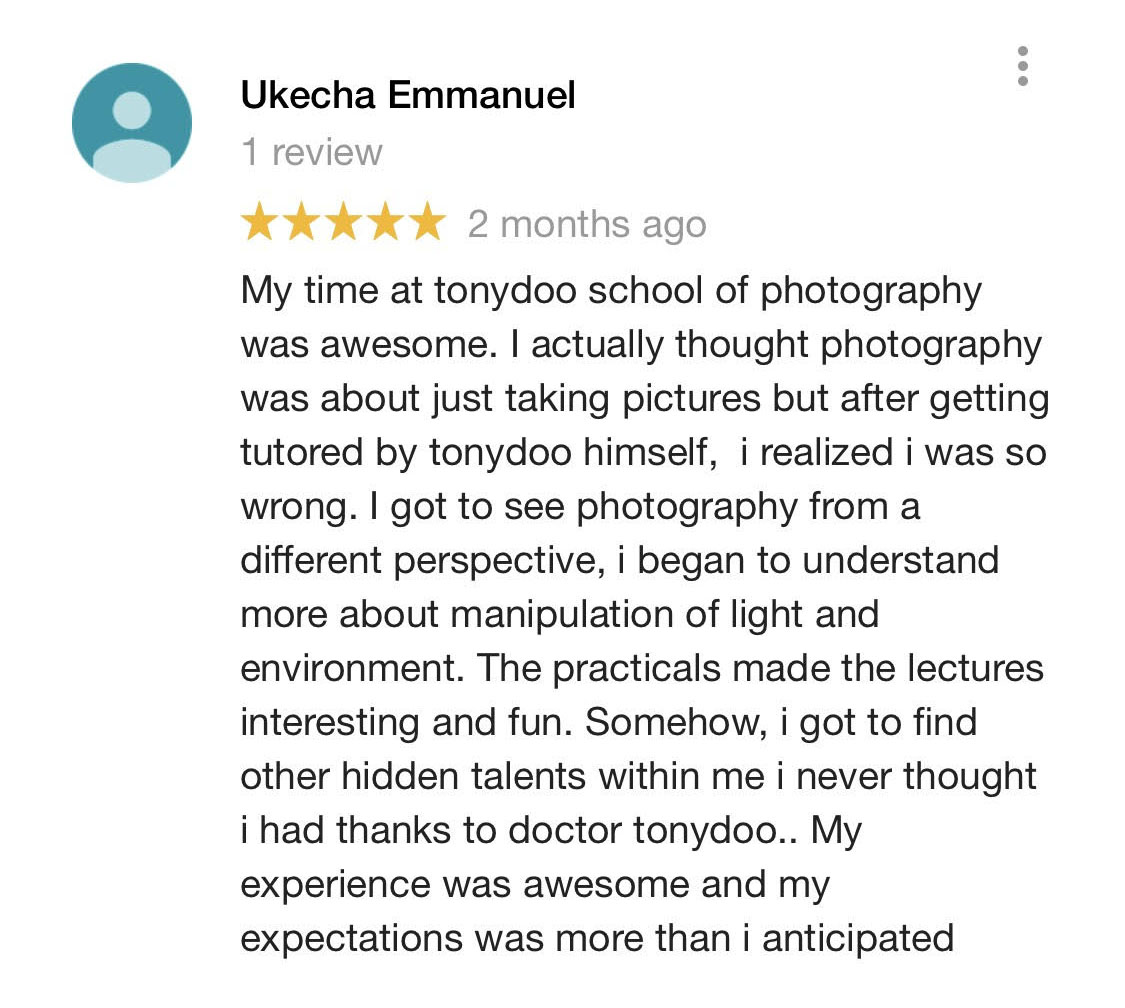 Praise, a 15 year old girl poured out her mind with all sincerity about our Photography Training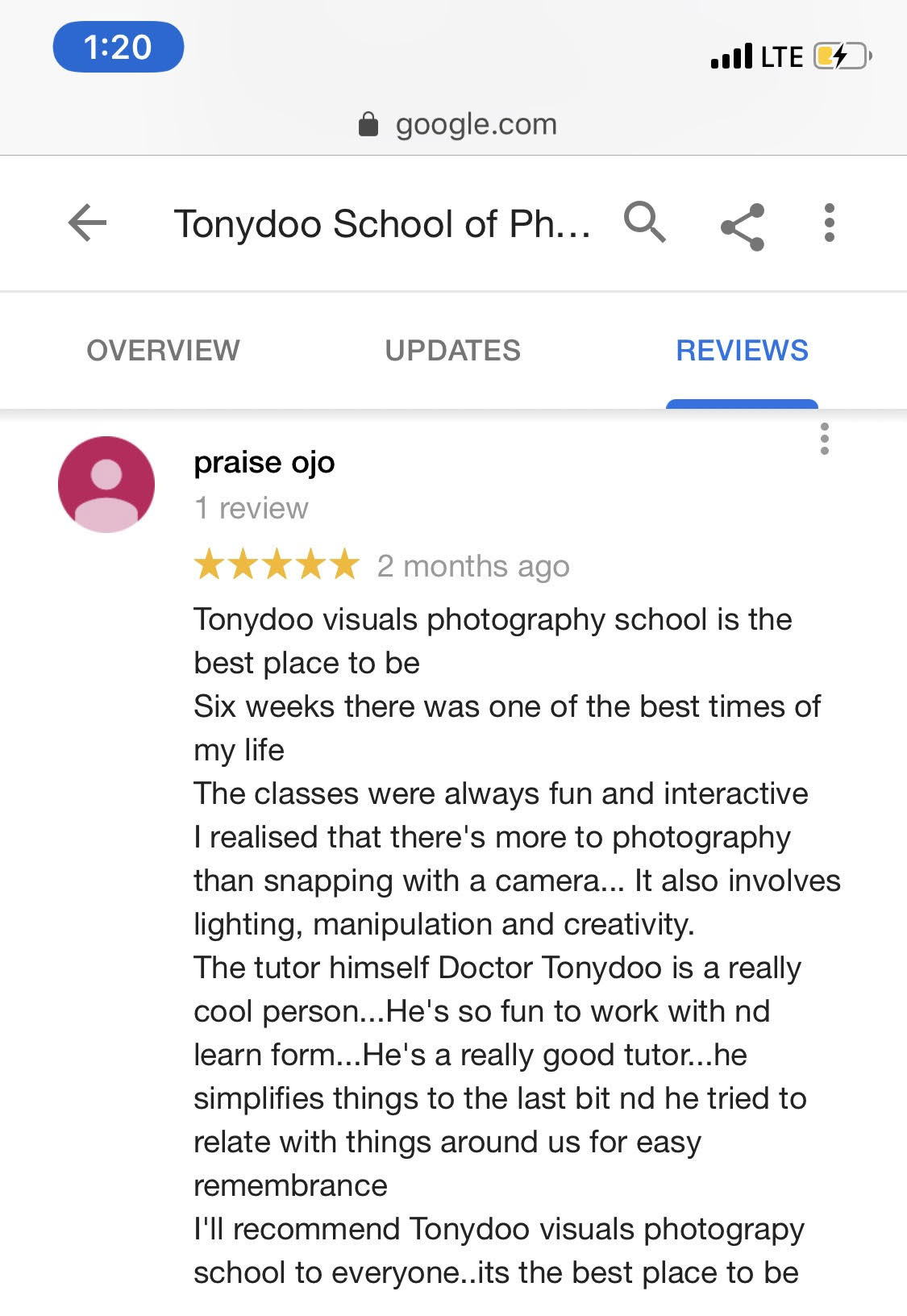 After all these amazing feedbacks, are you still having any doubts?
Remember our 30 Day 100% Satisfaction Guarantee
If you are not satisfied with your new backdrop, for whatever reason – perhaps the strategies and our methods of teaching does not give you the guaranteed results after they have been judiciously practiced, we'll refund you your money
What's next?
You should be getting ready to make your payments NOW because on the average, we get over 50 applications every month, and we only have 10 slots.
This is done so as to ensure we give a One-On-One Training arrangement to all students. We do not like large classes, because it can be a bit distracting.
SPECIAL BONUS:
We will be teaching you The Business of Photography-where you will learn the strategies, methods and skills on how to start a Photography Brand, how to get clients and make huge tons of income from Photography
This Photography Training taking place in Lagos, Nigeria is ideal for young people, working professionals at all levels, students, entrepreneurs, make up artists or anyone looking to develop their Professional Photography capabilities.
CERTIFICATES:
Turn your passion for Photography into a career. Learn from the best in the industry. Certificates will be issued to you at the end of the Training
Again! Here are The Advantages of learning Photography NOW. Stop procrastinating and join our next class
Be your own boss, making as much as 100,000 to 250,000 monthly working at a time you wish
Learning Photography from our School will enable you Have a second source of income
Once you have the skills, all you need to do, is leverage your existing network or circle of friends, family and co-workers to get jobs, week in week out
You have the freedom to work any time you feel like and wherever you want
You can even decide to setup a mini studio in the from the comfort of your home/space/compound
When charging clients, there is no fixed price, there is no limit price to charge your clients
You dont need to quit your existing job, you can do it at your convenient time
Photography is Easy to start. All that is required of you is the Passion to follow your dreams!
You already have the network of phone contacts, dad's contacts, dad and mum's friends, family etc
Photography develops your mental and creative abilities
Events happen day in day out. Events happen on every single day of the week. Weddings no longer take place on weekends. People no have their weddings on Mondays, Tuesdays and not only on Fridays and Staurdays
Companies require the services of a Photographer
The demand is really high right now, as so many young people are delving into Photography. So you don't have a reason to be left out