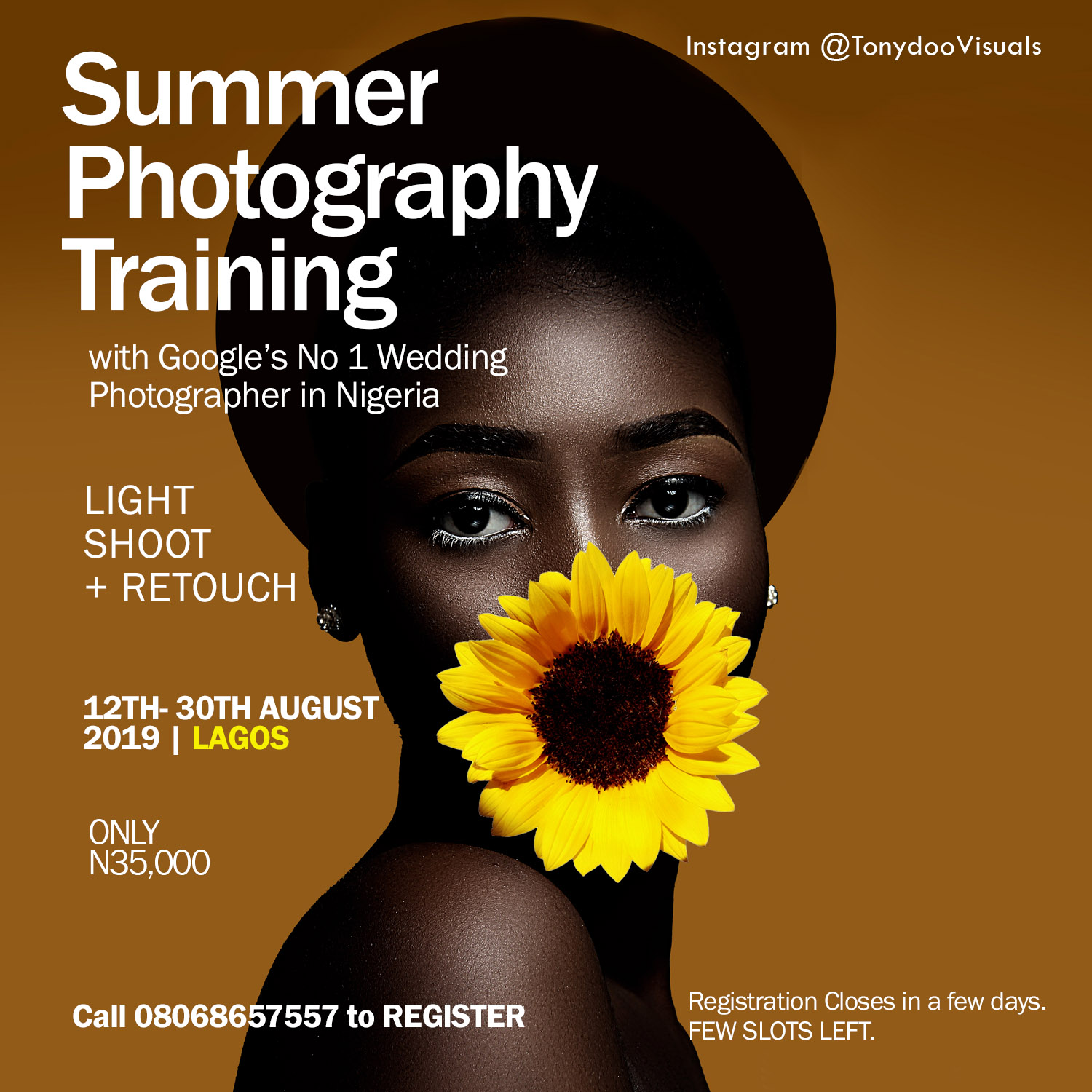 Photography Summer School in Lagos
DURATION: 3 WEEKS
Fast Way to Professional Photography
Introduction to photography
Camera settings
Indoor and outdoor photography
Framing and composition
Editing (photo screening)
3D lighting
Landscape photography
Portrait
Creative and product photography
How to setup a mini studio
Practical test
3 months mentorship
Hurry! Limited slots left.
ONLY ₦35,000
Training Details
Date
12th- 30th August, 2019
Time
10am – 3pm
Venue
3, Musa Adeshoga Close, Behind Total Petrol Station, Shyllon, Palmgrove, Lagos
We are the Best Photography School in Lagos, Nigeria. We Offer 100% Practical Photography Classes | *REGISTER NOW
*Cameras Available | Trips + Tours + * 3 Months Support
Why Study Photography at Tonydoo Photography School?
Equipped Studio and Equipments
Students have access to modern equipment, which is of high quality and regularly updated. They practice on gear commonly used by professionals.
The institute is equipped with Apple computer, lights and studio equipment, as well as a large selection of accessories to help style the students' photography sessions. Some equipment – such as portable flash kits – is available for use outside of school hours.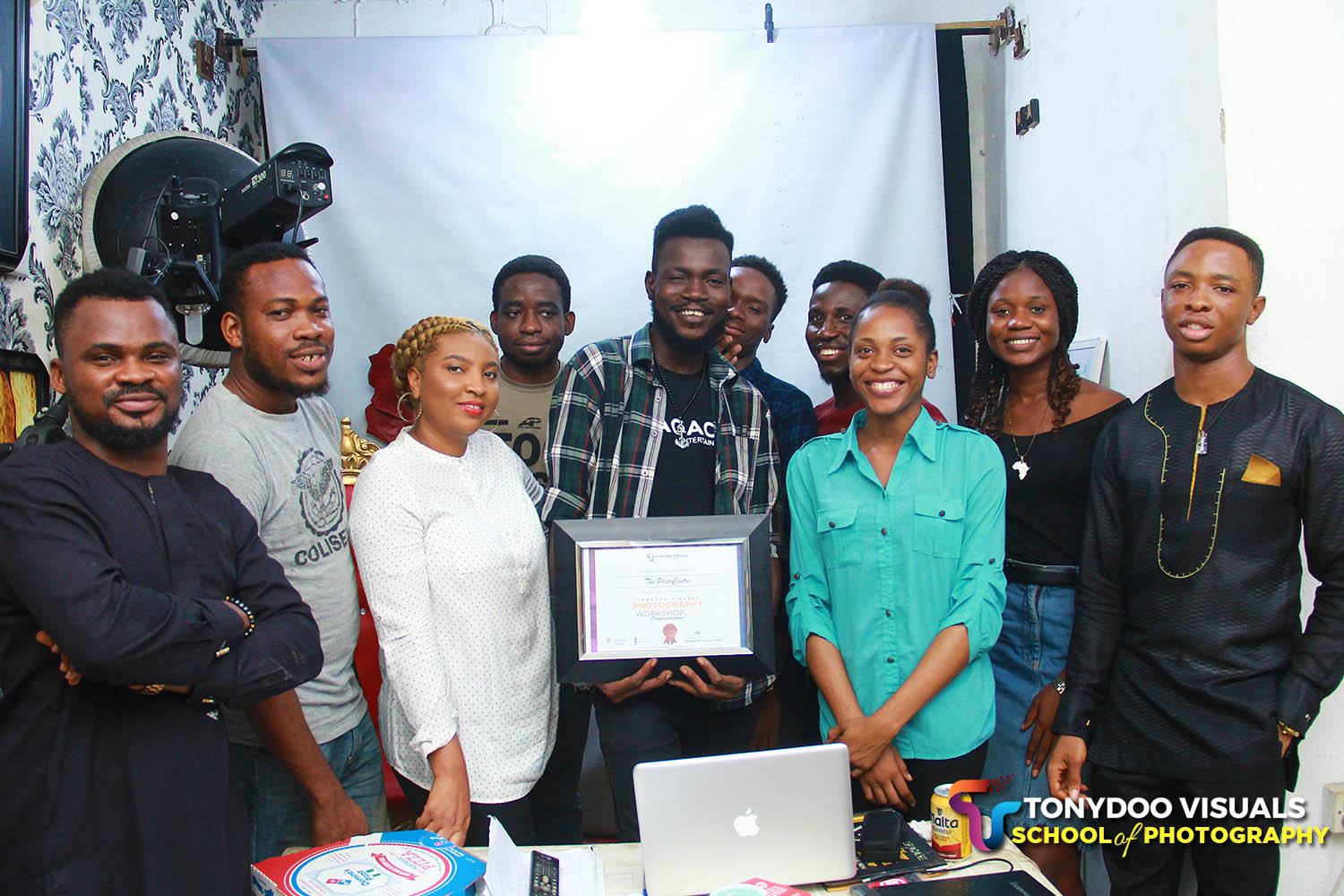 A Lot of Practice with Photography Professionals
Classes take place in small groups. Teaching is hands-on, aims at favoring learning by experience and regular practice.
The students are taught by a team of highly qualified teachers, each a specialist in their domain. The premises are equipped with the latest equipment.
Special Features
The Business of Photography
Certificates will be issued
Games
Excursions
Field Trips
Fun Fridays
HURRY! Limited slots left!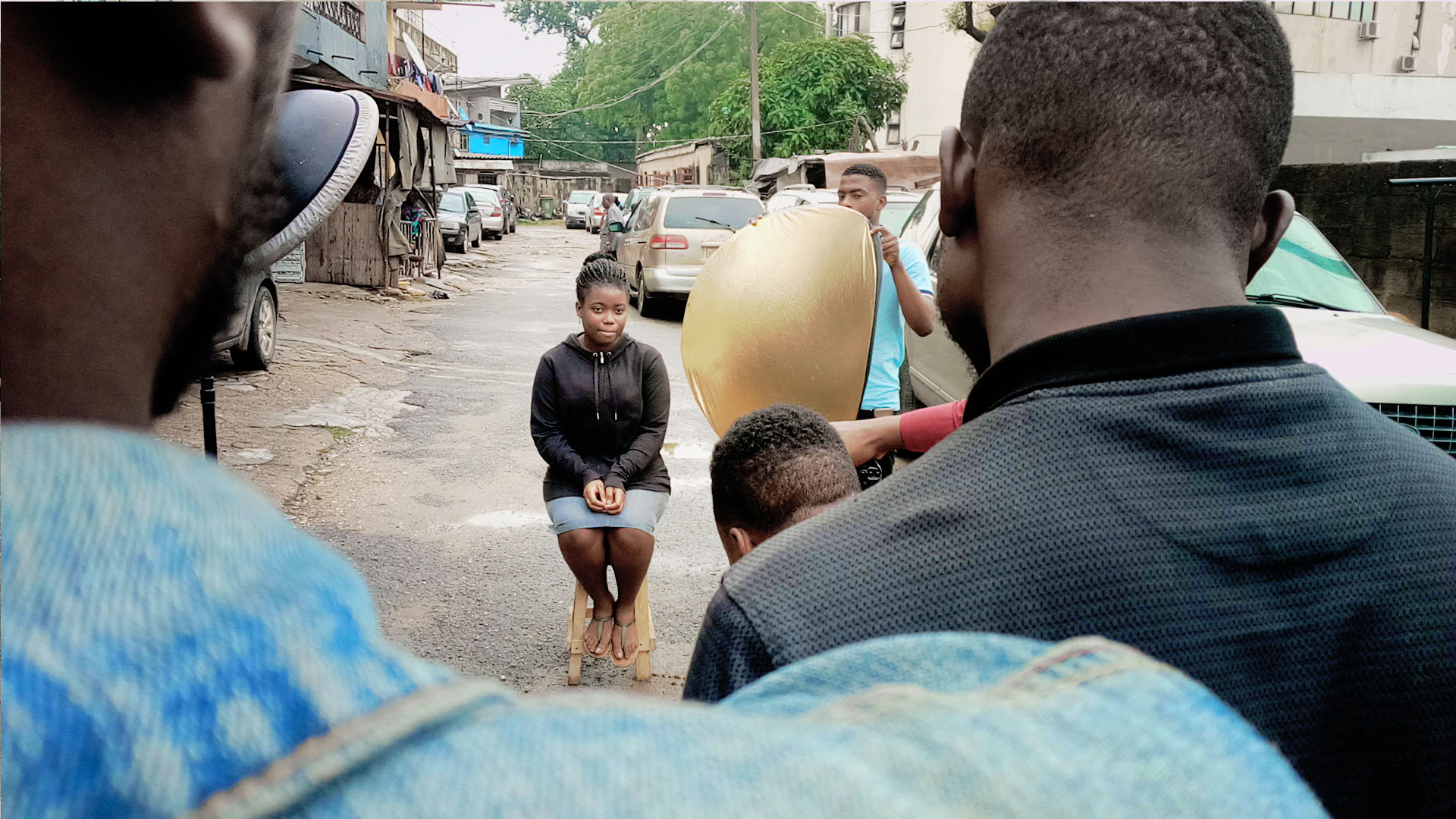 Companies That Trust Our Photography School in Lagos, Nigeria
Top companies and brands choose Tonydoo Visuals Photography Institute above every other Photography Institutes and Company to learn Digital Photography






Fill the Form Below to Register Now
[ninja_form id="4″]
Why enrol at Tonydoo Visuals School of Photography Nigeria? Best School of Photography in Nigeria.
At the Tonydoo Visuals Photography Institute, our vision is to be a trusted source in photographic education and training. We strongly believe the learning process in photography or in developing any other skill must be enjoyable in order to love the subject and succeed throughout every step of the learning curve.
Read our story
Phone: 0806 865 7557, 0802 663 9718
Email: info@tonydoovisuals.com
Address: 3, Musa Adeshoga Close, Behind Total Petrol Station, Shyllon, Palmgrove, Lagos
Learn what is working from the best in the business
Time is running out - Apply Now Before it is too Late.
Got Questions? Call 📞 0806 865 7557, 0802 663 9718
Click 👉 HERE to apply now
6 Weeks Advanced Photography Class
(Sign up and Get FREE Photography Software Kit and Photography Cheatsheets)
N80,000
3 Months Basic & Advanced Photography Classes
(Sign up and Get FREE backdrop, Reflector & Photography Software Kit)
N150,000
6 Months Basic & Advanced Photography Classes
(Sign up and Get 3 FREE backdrops, FREE Reflector & FREE Speedlite and FREE Photography Software Kit)
N250,000
Website Design Services
Website Design, Hosting, Domain Purchase, WordPress and Content Management Systems
As low as N120,000
Digital Marketing Services
Search Engine Optimization, Digital Marketing, Social Media Services,
As low as N70,000
Media Production Services
Photography, Wedding Coverage, Video Shoot, Music Video Shoot, Wedding Videos, VOX POPs, Documentaries
Contact for prices
IT Services & Solutions
Chat Bot Implementation, Mobile Apps, Email Setup, IT Projects
Contact for price