Register for One Month Intensive Photography Classes in Lekki | Best Photography School in Lekki
Whether you want to be a photographer or just love pictures, learn what you need with our in-depth courses in photography: how to shoot photos that tell a story, choose the right gear, create a photo book, and more. get tips on photo editing, studio photography, and lighting too.
[ninja_forms id=3]
Introduction to the course

Whether you want to be a photographer or just love pictures, learn what you need with our in-depth courses in photography: how to shoot photos that tell a story, choose the right gear, create a photo book, and more. get tips on photo editing, studio photography, and lighting too.
About the Photography Training School

This course on professional photography is a 4-weeks training that will give you an ultimate exposure to the world of Photography. In this training, you will master the art of becoming a great photographer by learning the 3 pillars of Photography, Cameras & Lenses, Exposure Triangle & Creative Control of DSLR Camera, Art of Composition, and Post Processing. You will learn from video tutorials along this training, you will have entirely understood the nuts and bolts of Photography and will be able to capture amazing eye-catching pictures For doubt clearing, you can post queries in the form and get answers immediately.
At the end of this Training, you will have mastered the following:
1 – Camera Handling & Operation with Practicals
2 – Use lighting to achieve creative images
3 – Wedding Photography
4- Studio and Model Photography
5 – Portrait Photography
6 – Product Photography
7 – Documentary Photography
8 – Outdoor Photography
9 – FREE Editing Software Installation
10 – How to Actually make Money As A Photographer in Nigeria – The Business of Photography
11- How to Retouch & Edit Photos Like a Pro
12 – Graphics Design to promote your Social Media Pages
13 – How to Create and Edit Videos
Frequently Asked Questions
When is the next photography class startiing?
Our classes are very interactive and interesting and as such, are always on! Call us to find out the date of the next class on 08068657557.
2. What if I don't have a camera?
That has been taken care of. We have cameras we use in training students, so you don't need to worry about that. We also give you advice on the best type of cameras to buy if you are planning to get one before the class starts. Call us on 08068657557
3. How long is the photography training?
The training is for 1 month. Though we also have 3 month training for long term training. The days for Training are Mondays, Wednesdays and Thursdays. 
4. How much does the Photography Training cost?
Our one month Training is N120,000 while our 3 months training is N250,000. 
For the one month Training, you will be learning all aspects of the Photography Course, while in the 3 months training, you will be able to follow the team out for shoots, events, and even get referrals for jobs, with practical guidance provided for you.
5. How will I get clients after the training?
As a result of our experience in Training over the years, we have carefully mapped out strategies which we put under a category called "The Business of Photography" where you will learn about how to setup a studio, get clients and deliver on expectations.
6. Can I always come to the studio?
The answer is YES! Out studio is always OPEN! You can always come to studio at any time you wish to. We treat you as one of us and we never actually let you go, until you have mastered everything you need to excel!
7. What if I don't have any prior experience to Photography? Can I also join?
You can join even if you are in JSS3 classes. Yes! It is something we have been doing over the years and we are very certain of the concepts, techniques and course we teach. Our classes are structured in such a way that we break down everything to basics. So you come out blazing hot!
8. Can I pay in installments?
Even as we have the best fees in the country, we can give you some payment plans because we believe we have to motivate you to do what you are passionate about – Photography.
9. What will I be learning in this Training?
In this Photography Training, you will be learning practically everything you need to become a Professional Photographer. You will be learning Studio Photography, Camera Operation and Handling, Model Lighting, How to Shoot Outdoors and a whole lot more. Remember, you will be learning the editing aspect of Photography too. So it's a complete course and you are in for a good time!

10. What is the duration of this training?
There is One Month Standard Training and 3 Months Training. One Month's Tuition is 120,000 while 3 Months Tuition is 250,000
What are the timings of this training program?

11. Who can join? I am a beginner/advanced user
We've trained 15 year olds before and we have also trained professional working class people such as Medical doctors as well. The choice is yours.

12. What hardware/software are required for doing this training?

You will be required to have a DSLR Camera and computer/laptop for this training. If you do not have, we can assist you in getting one.
13. Will there be a certificate provided at the end of this training?

Yes, a certificate will be provided upon completion of the training. Students may download a soft copy of the certificate through our portal
Course Details
Date: August 17 – September 12, 2020
Time: 10am – 3pm Mondays, Wednesdays and Thursdays
Venue: 33B Flexible Offices. Address: 1  Alh. Hussein Sunmonu St, Lekki Phase I, Lagos
Course Highlights
Classes taught by Google's No. 1 Wedding Photographer in Lagos Nigeria
Over 465 successful graduates produced
Professional Certificate in Photography
Lifetime access
24/7 Support from the Academy
Course Benefits

You pick your start date
Flexible Classes
Educator support – Always get your answers
Unlimited Courses and Bonuses
You will get to follow the team out on shoots/events
Learn How to build your personal photography brand
Certificates will be issued on completion
Student Works
Average rating
5 Star rating on Google
Testimonials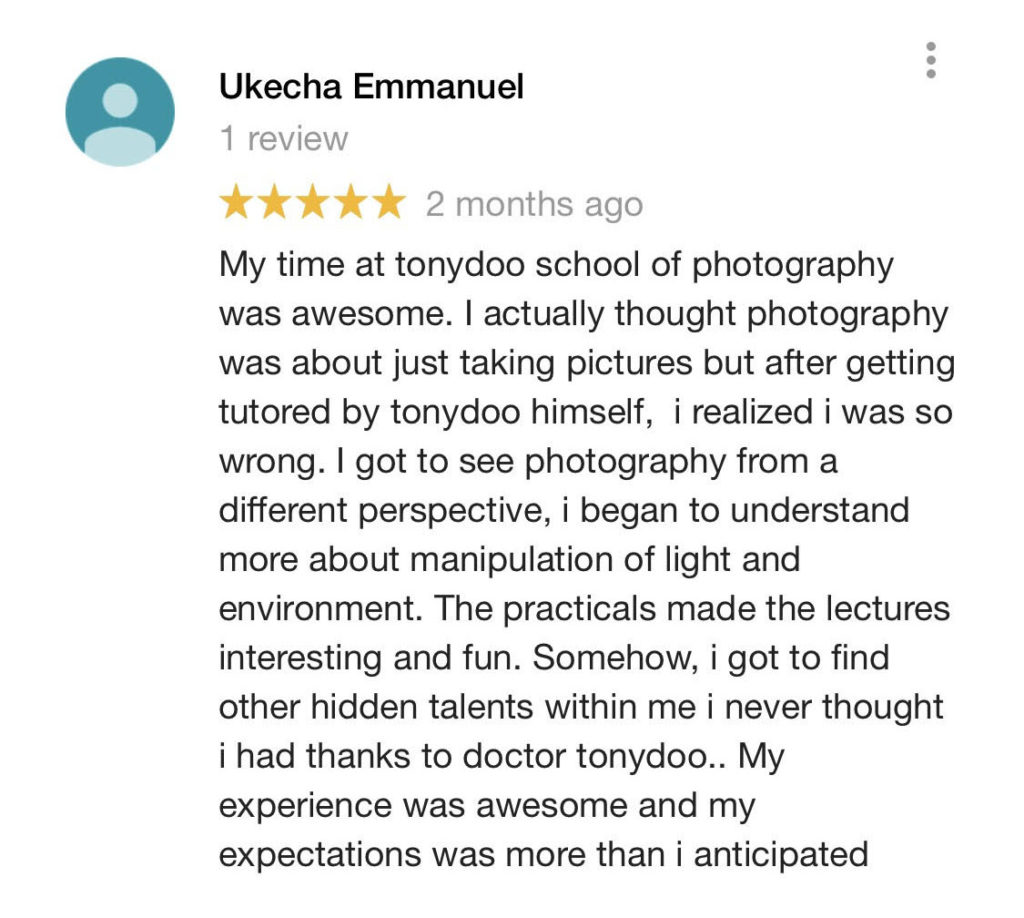 Price

Pick up a form for N5,000. Tuition – N120,000 (covers certificates, personal projects, the Business of Photography and much more)
At the end of this course, participants will be able to:
Know everything about professional Photography
Disassemble and assemble any professional DSLR camera with lighting setups
Create cinematic shots using different elements of composition, perspectives, rule of thirds, depth of field etc.
You will be able to handle any type/specialization of Photography
All cameras will be provided, lenses, tripods, lights will be provided for use
Edit camera footages in raw and jpeg formats with Adobe Photoshop and Adobe Lightroom
Duration: 1 Month N120,000 >>Register Now <<
Register now to get started.
[ninja_forms id=3]
Class pictures